BROWSE BY TOPIC
Wall Street News
Does the Market Really Need Highly Leveraged ETFs?
May 23, 2017
[Image: ispyetf.com]
by Howard Haykin
The WSJournal reported that shares of a triple-leveraged ETF that trades on NYSE Arca - Direxion Daily MSCI Brazil Bull 3x ETF (BRZU) – plunged 48% last Thursday because of reports that Brazilian President Michel Temer was involved in an alleged bribery. The following day, Friday, the ETF advanced 18%.
Needless to say, Thursday's slide was one of the largest-ever declines in an ETF, highlighting the risks "facing investors who use so-called leverage exchange-traded funds in highly volatile areas in a bid to turbocharge their returns."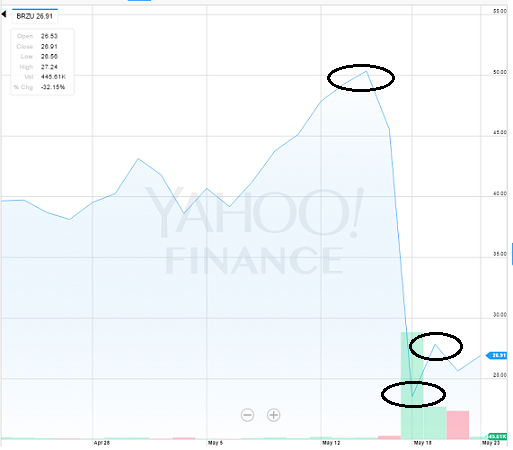 Such a market play may be appropriate for day traders, but certainly not for average or unsuspecting investors. Yet, it's available at the push of a button at an online broker-dealer or through a supposedly unsolicited order placed with a 'bricks-and-mortar' brokerage firm.
The SEC is the gatekeeper for approving or rejecting applications to list securities and securities products. This was the subject of a recent Financialish.com article regarding the pending applications for two new exchange traded funds – the ForceShares Daily 4X U.S. Market Futures Long Fund and the ForceShares Daily 4X US Market Futures Short Fund. Both applications were approved by SEC Staffers, but SEC Commissioners are having second thoughts and now may put the applications out for comment. GOOD!
The 'need for speed' is something that should not be regarded lightly. Perhaps such highly leveraged products and securities should be designated to the financial futures markets – and under the oversight of the CFTC.
Is Financialish.com being overly protective? Share your thoughts.