Wall Street News
5/24 Weekly Recap: Financial Stocks and Market Indices Limp Into the Holiday Weekend
May 25, 2019
by Howard Haykin
The Financialish 30 Index declined 0.2% for the week ended 5/24/19, significantly "better" than the S&P 500 Index, which declined 1.2%.
Among the 10 Largest Financial Stocks ...
TD Bank (+3.6%) and American Express (+0.8%) were the on the plus side this week.

Morgan Stanley

(-2.3%) and

Goldman Sachs

(-2.0%) were the biggest losers.
Morgan Stanley has not had a positive weekly return since April 18, dropping $3.55 in price, or 7.5%.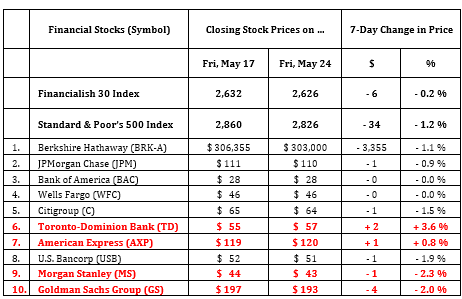 ► Above 10 stocks are ranked by market capitalization. [Yahoo! Finance]
► Click here for 5/24 closing prices of all stocks in the Financialish 30 Index.