Wall Street News
5/3 Weekly Update: Financialish-30-Index Tops Standard-And-Poor's-500 as Financial Stocks Inch Ahead
May 4, 2019
by Howard Haykin
The Financialish 30 Index advanced 1.4% for the week ended 5/3/19, as compared to the S&P 500 Index, which advanced 0.2%.
Bank of America (+3.3%), Goldman Sachs (+2.5%), and Wells Fargo (+2.1%) were the big winners among financial stocks.
For a change, there were no losers this past week, though Morgan Stanley remained unchanged for a 2nd consecutive week.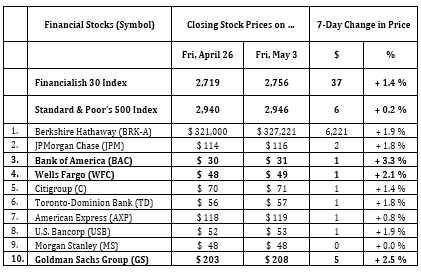 ► Above 10 stocks are ranked by market capitalization. [Yahoo! Finance]
► Click here for 5/3 closing prices of all stocks in the Financialish 30 Index.