Wall Street News
Bitcoins: While You Were Sleeping
April 5, 2019
by Howard Haykin
At 12:29 a.m. on Tuesday, April 2nd, Bitcoin was valued at $4,196. Thirty minutes later, its price had jumped to $4,570 (a 9% rise). And exactly one hour later, the price was $4,849 (an additional 6-1/2% rise). The Bitcoin buying frenzy reached a peak at 5:44 p.m. on Wednesday, April 3rd, when the price hit $5,286 (all told, a 26% rise).
Ethereum, the #2 cryptocurrency (as measured by market cap) experienced a similar jump in price: $142 at 12:24 a.m. on Tuesday, Ethereum hit $152 (a 7% rise) just one hour later, and peaked at $178 (a 25% rise) at 5:39 on Wednesday, April 3rd.
As shown on the following chart pulled from coinmarketcap.com, there are now 14 cryptocurrencies that spot market capitalizations of $1 billion or more – thanks in large part to the meteoric rise in price over the past 7 days.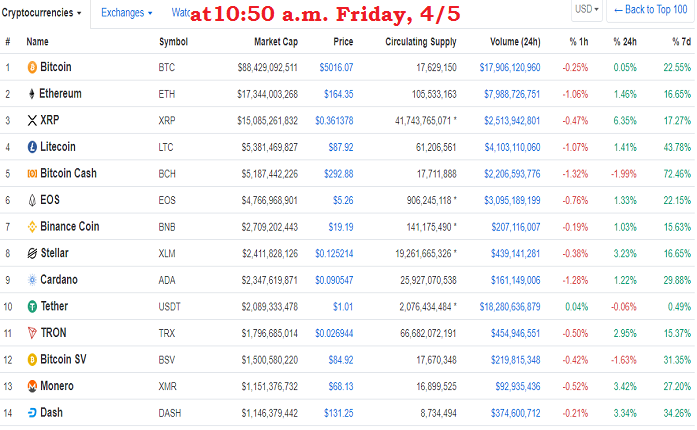 Which leaves many sideline investors wondering: Should I invest now and not miss the next rally or ... did I 'miss the boat' and stay on the sidelines?
I'm probably the last person to ask – I frequently second guess my own investment decisions. However, you might want to read an article by Bloomberg's Vildana Hajric, who reports: Bitcoin Most Overbought Since Record Run, Technical Gauge Says. While rising markets are certainly better than falling markets, investors typically prefer more gradual price movements.
That said, cryptocurrencies markets are suited more for traders than investors. And regardless of whether you're a trader or an investor, you've got to have a high tolerance for volatility.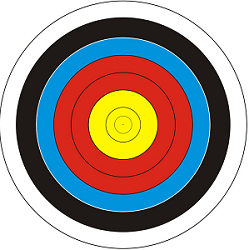 Final Word of Caution: If you're fortunate enough to catch Bitcoins or other cryptocurrencies on the uptick, be sure to put aside enough cash to pay for the income taxes on your capital gains. The IRS puts a target on the backs of crypto-investors.