Wall Street News
Cryptocurrencies: What's the Upside After a Horrific 2018?
January 2, 2019
by Howard Haykin
Question: How did the Bitcoin investor make $1 Million in 2018?
Answer: By starting the year with a $3.8 Million investment!
Yeh, it's an old, corny Wall Street joke and punchline but, in this case, it's true. And the numbers for most other cryptos are worse. Beyond Tether, which essentially broke even, 3 cryptocurrencies - Bitcoin Cash, Cardano and IOTA - each dropped >90% in market price. [See chart below.]
OUTLOOK FOR 2019. This year, the cryptocurrencies markets are certain to remain volatile, much like in 2018. In just the past 24 hours, the markets have been bullish - with Bitcoin jumping 3.2% in price, while Ethereum has risen nearly 12% - though some prices have fallen by 1% or more in the last hour.
The big question remains: have the large cryptocurrencies bottomed out or will they continue to dramatically descend. It's anyone's guess as to what will transpire in 2019 and beyond, but keep in mind that only 12 out of the more than 2,000 cryptocurrencies have market capitalizations north of $1 billion. That is not a sign of stability. And with most cryptocurrencies trading at less than a penny, it's likely we'll see many cryptocurrencies markets consolidate and simply disappear or evaporate.
BEST SUITED FOR THE CRYPTOCURRENCIES MARKETS. Short-term, in-and-out traders and investors with a tolerance for huge volality are still the best suited players for the cryptocurrencies markets. And, if you're game, then buckle up for a wild 'roller-coaster' ride in 2019 and beyond.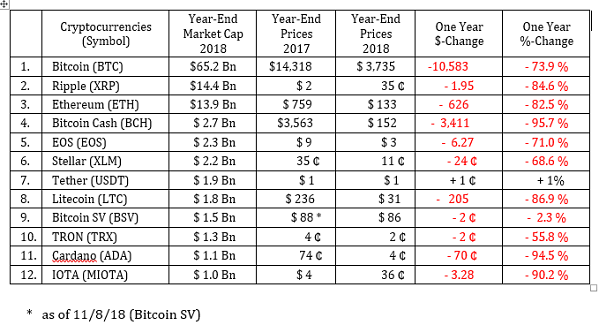 Prices: Courtesy of CoinMarketCap.com