Wall Street News
Misery Loves Company - Financial Stocks v. Cryptocurrencies
December 6, 2018
Since the markets opened for trading on Tuesday morning, financial stocks have plunged in value. And, if it's any consolation, the prices of cryptocurrencies have taken similar falls - as illustrated by the price declines for the 3 largest financial stocks and 3 largest cryptocurrencies (as both were measured by market caps).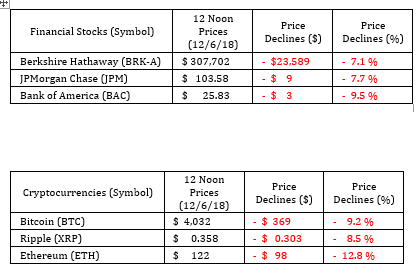 Stock Prices from ... Yahoo! Finance.
Crypto Prices from: CoinMarketCap.com.