Wall Street News
Missed the Big Bitcoin Rally? No Worry, It's Likely to Come Back Down
May 12, 2019
by Howard Haykin
Over these past 2 weeks - 16 days to be exact - some cryptocurrency prices have moved, well, off the wall. From Friday, April 26th, to Saturday, May 11th, thirteen of the 14 largest cryptocurrency markets advanced, with Bitcoins rising nearly 35%, and Bitcoin Cash advancing 31.2%. (see 1st chart) It's enough of a move to prompt some sideline investors to kick themselves in the butt for not getting in.
Yet, those who got in on Saturday morning were in for a rude awakening. Over the next 26 hours, Bitcoins lost 4.2% of its value, while Cardano (9th largest crypto) fell 10%. (see 2nd chart) While it would not be shocking to see the crypto markets streak higher once again - especially with the ongoing corrections in the equities markets, these gyrations serve as further testament to the (often unpredictable) volatile price swings in cryptocurrency markets.
FYI, the rebound in virtual currencies follows a market slump that was caused in part by New York Attorney General Letitia James' investigation into the alleged $850 million coverup by companies behind cryptocurrencies Tether and Bitfinex. [See Bloomberg, 5/11]
As of 9:45 a.m., Saturday, May 11, 2019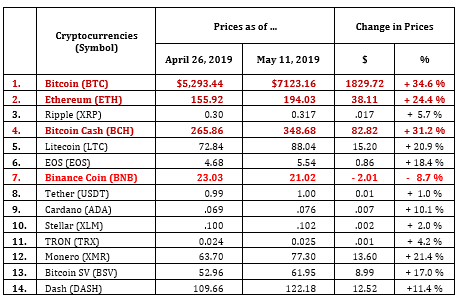 As of 12 noon, Sunday, May 12, 2019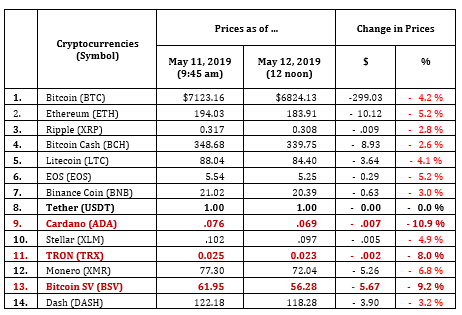 Note: Cryptocurrency prices courtesy of CoinMarketCap.com.