Wall Street News
Surge in Crypto Prices Plus Robinhood's Free Crypto Trades: Cause for Elation, Caution or Concern?
May 30, 2019
by Howard Haykin
If you've been hiding under a rock, you may not have noticed that cryptocurrencies have skyrocketed in recent weeks. [see chart below] In less than 3 weeks, the price of Bitcoin has jumped 28%. But that figure pales compared to the rise of most other large cryptocurrencies. Bitcoin SV now trades at $204.06 (a whopping 262% rise), while Bitcoin Coin trades at $33.89 (a 66% rise).
This recent phenomenon has fueled sharp debate between critics and proponents of these alternative investments: Will Bitcoin reverse course and return to its 2018 closing price of $3,735, or will this rally continue and carry Bitcoin towards or beyond its 2017 closing price of $14,318? It's anyone's guess.
That said, the cryptocurrency markets are probably getting a boost from Robinhood Markets, which last year added crypto trading to its online app. This introduction is bringing new and younger investors into the crypto marketplace, while helping Robinhood grow. The broker-dealer has doubled its customer base and its transaction volume is now north of $100 billion. According to Bloomberg reporters Matthew Leising and Benjamin Bain, Robinhood's entry into the crypto markets was facilitated by Jump Trading LLC, a little-known but profitable Chicago trading firm that benefited from being an early mover on cryptocurrencies. [see Bloomberg, 5/29]
Meanwhile, more well-known financial institutions, like Fidelity Investments, JPMorgan and ICE (owner of the NYSE) are taking serious looks at these nascent markets.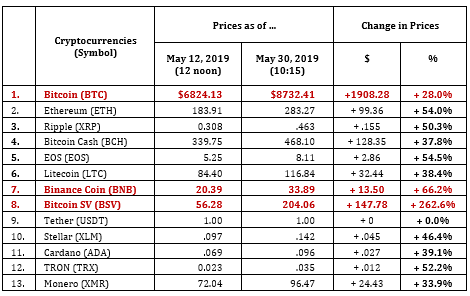 Note: Cryptocurrency prices courtesy of CoinMarketCap.com.