Wall Street News
The Crypto Market Giveth, Then It Taketh Away
April 26, 2019
by Howard Haykin
And sure enough, there was my Financialish post on April 5, Bitcoins: While You Were Sleeping, which reported that Bitcoin rose 26% over a 17-hour period on April 2. Over that same period, Ethereum (the #2 cryptocurrency in market cap terms) had jumped 25%.
According to CNBC, yesterday's crypto markets were spooked over regulatory worries after the New York Attorney General accused Bitfinex (a bitcoin exchange operator) and Tether Limited (a Tether issuer) of hiding an $850 million loss. Seems that Bitfinex used at least $700 million from Tether's cash reserves to cover up the apparent loss of client and corporate funds.
The news caused the price of Bitcoin to fall 4% over a 24-hour period – though that loss is barely noticeable since the market price of Bitcoin has risen 5.5% over the past 3 weeks - contrary to the significant losses experienced by 12 of the 14 largest cryptocurrencies over that same period - as per the following chart.]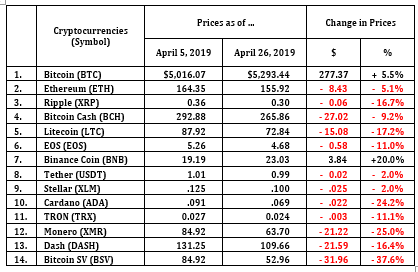 FINANCIALISH TAKE AWAYS. Today's story on CNBC illustrates that risks abound with all cryptocurrencies – even Tether, considered to be one of the most stable of cryptocurrencies – while our 21-Day Performance chart illustrates that cryptocurrencies named 'Bitcoin' oftentimes go up in market price even when other cryptocurrencies decline. [Note, however, that 'Bitcoin SV' was the biggest loser over the 3-week period, losing 38% of its market value.]
That said, if you're invested in the crypto markets, wear your crash helmets and keep your seat belts fastened. And, if you're a light sleeper, have those sleeping aids handy. The bumpy ride continues.